AutoCore Joins Forces with BlackBerry QNX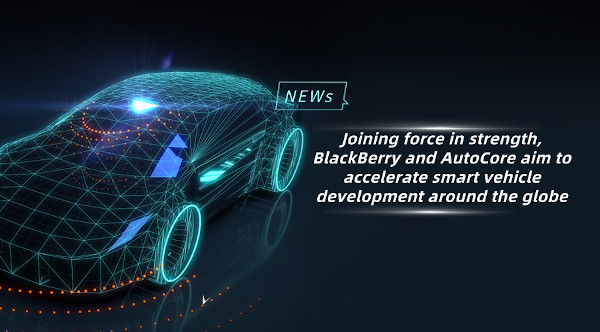 Cambridge, UK/Nanjing China - June 29, 2022 - AutoCore, an intelligent automobile software platform supplier, today announced it is collaborating with BlackBerry Limited to provide innovative self-driving middleware and applications to make autonomous vehicles safer and more scalable to speed volume production.
The combination of AutoCore and the BlackBerry® QNX® technology stack featuring the QNX® Neutrino® RTOS and QNX® Hypervisor provides Tier 1s and OEMs with scalable, safety-certified and high-performance middleware enabling automakers to accelerate development timelines and reduce cost in moving autonomous projects from research to production and onto roads.
"In the automotive sector, accountability and functional safety are critical, without sacrificing performance - this is what AutoCore delivers," said Dr. Yang Zhang, Chairman of AutoCore. "With products already adopted and in production with multiple leading OEMs worldwide, it's incumbent upon us to choose the most trustworthy industry players to partner with so that we're able to stand by the commitments we've made to our customers. BlackBerry QNX has built a strong reputation for providing that high level of quality in products and services which automakers can consistently count on and we're thrilled to continue to grow our work with them to meet the significant industry demand we're seeing."
"We are pleased to partner with AutoCore to further empower the automotive industry and our customers around the world," said John Wall, SVP and Co-Head, BlackBerry Technology Solutions. "Together, we will work to deliver innovative, integrated and intelligent middleware technology to the market underpinned by BlackBerry's safety-certified, secure and reliable solutions."
AutoCore is quickly emerging as one of the world's leading high-performance, intelligent mobility software and automotive electrical and electronic architecture (EEA) solution providers. The company focuses on automotive middleware, tailored for different EEA computing platforms of next-generation vehicles. AutoCore's key products includes a multi-patented AutoCore.OS, with a complete tool set helping OEMs and Tier1s through full life cycle from design to production. AutoCore has also achieved the ISO26262 ASIL-D certification, the automotive industry's highest functional safety standard for its Data Distribution Service (DDS). Powered by the QNX RTOS, the DDS provides a proven foundation for highly resilient and responsive distributed control systems, delivering the microsecond latency that automakers need to validate and provide 'operational proof' for their autonomous vehicle projects.
For more information, please visit: http://www.autocore.ai or reach out to [email protected]
About AutoCore.ai
AutoCore.ai, founded in March 2018, specializes in functional safety middleware and SoC-independent Heterogenous Computing Platform for Autonomous Driving with low cost, low power, scalable and reliable system with built-in customization capability. AutoCore.ai as Platform provider, aims to revolutionize the way Autonomous driving system is envisaged, designed and developed today.